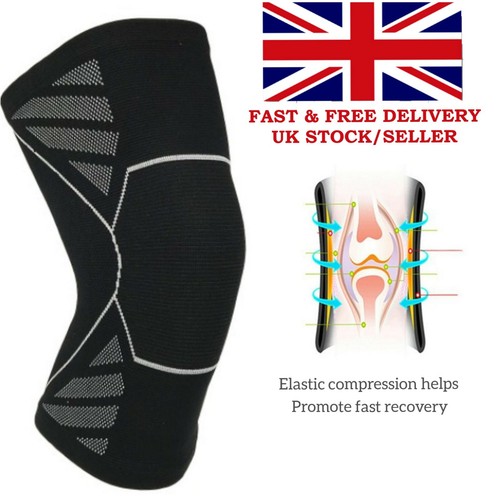 KNEE PAIN IS FRUSTRATING: There's a whole host of acute injuries and chronic conditions that can cause knee pain (injury, sprain, repetitive overuse strain, weak joints, cartilage deterioration, post surgery, kneecap dislocation, arthritis, patella fracture, meniscus tear, ligament injury (ACL, PCL, TCL, MCL), tendonitis, tendinitis, flat feet, collapsed arches, runners knee, jumpers knee, etc).
FAST PAIN RELIEF & SPEED UP THE HEALING PROCESS: Whether you suffer from intermittent or constant knee pain; give your knees instant support and enjoy immediate pain relief. Additionally, targeted compression will help encourage blood circulation, reducing inflammation/swelling and speeding up the recovery healing process.
COMFORTABLE, BREATHABLE, MACHINE WASHABLE & SUITABLE FOR ALL ACTIVITIES: Manufactured with a tailored blend of 68% Polyamide and 32% Spandex, they allow for a full range of motion – perfect for a wide range of activities and sports such as walking, hiking, jogging, running, basketball, netball, squash, badminton, volleyball, football, tennis, skiing, snowboarding, cycling, crossfit, athletics, gym, dancing, etc.
QUICKLY SAY BYE BYE TO KNEE PAIN: This product has been tried and tested on a mass scale worldwide. Just read a few reviews and you'll no longer be confused which brand to buy. Any issues or questions please get in touch – our friendly team are on hand ready to quickly and helpfully respond. Don't delay, give your knee(s) the support and protection they need – click 'Add to Basket' now and join the thousands worldwide enjoying pain free knees.