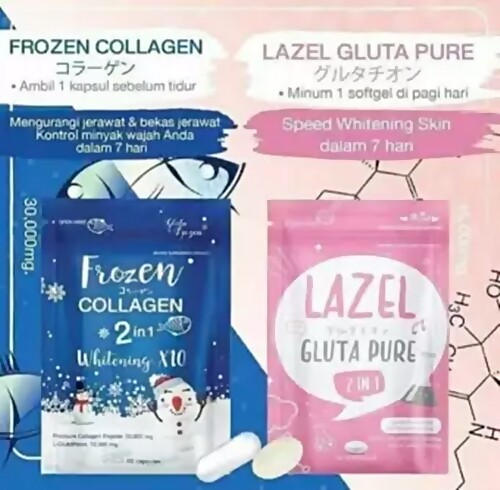 Description
Condition : New 100%
Type : Capsules
Size : 1 Sachet Contains 60 capsules X 3 Pack
1 Sachet Contains 30 softgels X 3 Pack
Quantity : X3 Frozen Collagen
X3 Lazel Gluta Pure
FDA Japan and Thailand approved.
GMP (Good Manufacturing Practice)
ISO (International Organization for Standardization)
HALAL approved product
Made in Japan but widely distributed in Thailand
100% organic with premium ingredients
Benefit:
Help to repair and reduce wrinkles
Eliminates acne craters with continuous taking
Eliminates open pores too
Prevents sagging of skin
Nourish the bone and tendon tissue
Reduce the chance of arthritis
Not harmful to the body and do not have side effects with the liver. Ingredients are high quality and pure organic
Helps remove toxins in the liver
Makes skin pinky and bright
Makes skin looks 10x younger
Reduce acne, freckles & MELASMA
How to take: Take 2 Capsules before bedtime.
Lazel Gluta Pure 2 in 1 Dietary Supplement Brightening Skin Antioxidant
Quantity : 1 Sachet
Size : 30 softgels per 1 sachet
LAZEL Glutathione is a powerful antioxidant, shielding cells from free radical damage that leads to disease and signs of aging. Its antioxidant and anti-inflammatory properties make it beneficial for heart health, cognitive function, and mood. It may also improve concentration and memory.
Brightens Skin Fastest A popular ingredient in beauty products, glutathione causes the body to produce a different type of melanin, which has a brightening effect on the skin. It can be used in serums to reduce skin discoloration and the appearance of age spots. .
Lazel Gluta Pure supplement for clear skin more than ever Concentrated with glutathione up to 15,000 mg. Reduce dark spots. With natural skin radiance
– Helps clear skin
– Reduce acne and dark spots
– make the skin look younger
– Adjust skin tone regularly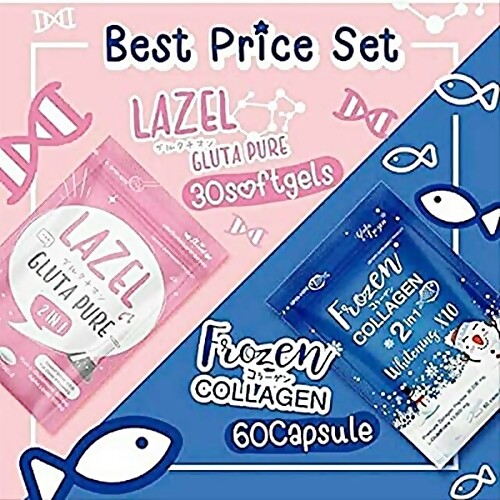 Directions : Take 1-2 softgels before bedtime