Your Own Travel Comparison Website!
Earn a passive income from affiliates & advertisements!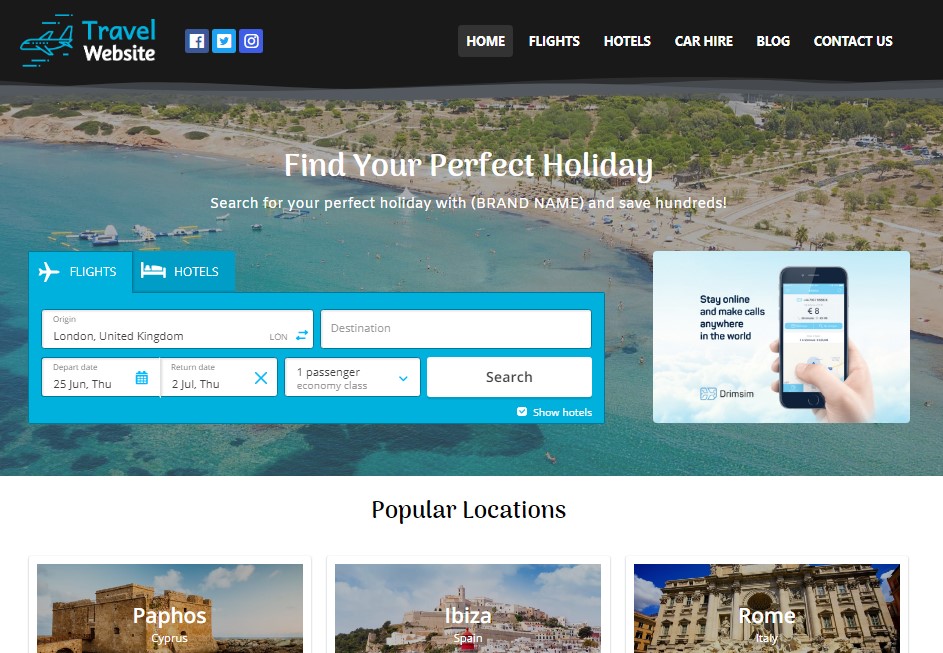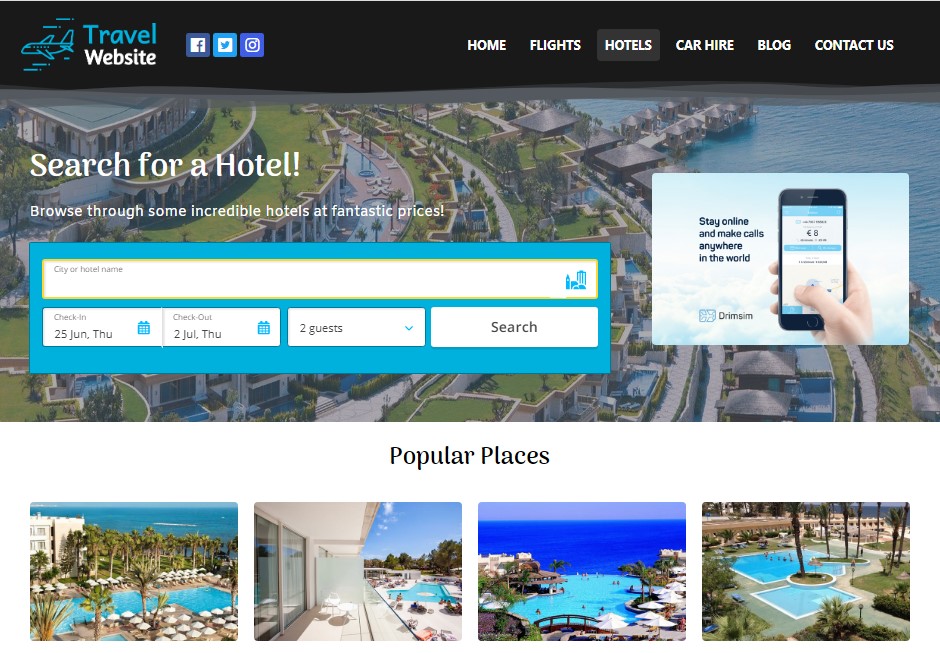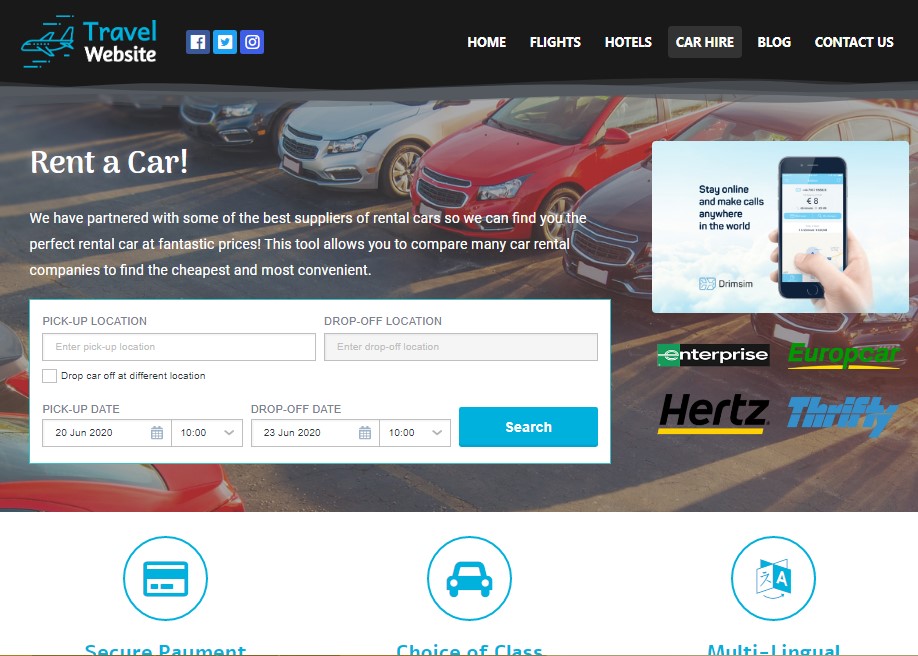 Live Demo: travel6.smughost.co.uk (copy & paste into browser)
About The Website
This is a ready to go website, we just need to add your domain (free domain) and setup the website to your branding and then your website is ready. Here is some more information about your new website.
Beautiful & Responsive: Your website is completely responsive so it works on all devices increasing your chance of earning money. We hope you would agree it looks gorgeous and we can even make minor changes for you (e.g. Background Changes, Colour Changes ect).
SEO Friendly: The pages we have already setup for you are completely SEO Friendly. This way you are more likely to get picked up by search engines and get a passive income even quicker.
Homepage: This is the homepage, it has a stunning header with the main search bar, social icons so you can build your social presence quicker. It has more quality blocks such as popular locations and blocks to try and convert for you. You can also earn more money by activating the advertisements.
Hotels Search: You actually earn more money from selling hotel bookings, they that also has it's own extensive page. It consists of the same header with a specific hotel search bar and hotels from random places.
Rental Search: Another way you can earn money is selling car rentals through the website, it's a great service to offer your customers and good for your income.
Airport Transfers: You can even offer airport transfers which is another way you can earn some money.
Travel Sim Cards: There are banners and features located around the website which is an affiliate that allows you to offer travel sim cards. If they sell thats more money for you.
Search Pages: When someone looks for a flight or a hotel they are taken to your white-labelled search page. They have your branding and are simple. The idea is to have all of the attention on the potential bookings.
Advertisement Spots: There are spots pre-set around the website to allow you to advertise on the website, this way you are earning money even when nothing sells.
Blog: You have the option to have a blog on your website. This is managed by you on the control panel. We recommend you using this function because it will increase your search results, you can use it to link to the search pages and offer your users good content. It's a win-win.
Control Panel: You can manage lots of aspects of your website in the control panel as well as seeing your reports and results to see how your website is doing. You can manage your blog, social icons, advertisements, blog comments and even more.
SSL Certificates: Your website will have a SSL Certificate so you and your customers are safe. The ssl certificate lets your customers know your website is safe. It also gets you ranked higher in search engines.
Language Selector: Your website has a language selector in the header so your users can select the language they want displayed. Most of the time the website will automatically detect if the person needs the website translated.
More Pages: Your website will also have a contact page so your customers can contact you. You will have a terms of service page and a privacy policy page. If you need other pages please let us know and we should be able to help.
There are even more features included in the website and everything is branded!
What's Included?
Domain Name Registration: If you don't already have a domain name (www.brandname.com) we will register one for you. We will do our best to get the one you want and give you all the options.
We will take care of the ordering of that domain and setting it up properly.
The domain name is included in the price for the first year of registration! This is not an additional cost we will pay for the first year for you.
Domains Available: .co.uk, .com, .net, .org, .uk and if you want other ones please message us to ask.
Website Hosting: We take care of the website hosting, this is all included in the price. We will set the hosting up and ensure you have the right hosting for your website.
Website Updates: We will take care of all of your website updates, this includes the platform & plugin updates.
SEO: We will ensure your website is SEO friendly, all pages will have the relevant meta tags and you will have a sitemap setup so we can get you listed on search engines quickly and effectively.

We take care of this process while developing your website. SEO is extremely important to get your website seen by more people.

We will also include a sitemap for you so you can easily submit your website to search engines.
SSL Certificates: It's 2020, your website needs a valid SSL Certificate, this ensures you and your customers are safe online. You also need the certificate to be listed better on search engines.
SSL Certificates give you the green bar (with a pad lock) in the browser and lets your customers know your website is safe.
We will set this up for you.
Premium Support: You will have your own dedicated account manager who will manage your website, support you when needed and check in with you. They are trained to handle anything you need.
Professional Email Accounts: We will setup professional email addresses for your website (e.g. hello (at) yourbrand.com). As a professional business you cannot be using personal email account addresses such as gmail or hotmail.
These email addresses make your business look so much more professional and gives your brand a better look. We will set the emails up and also help you learn how to use them, even set them up on your smartphone.
Need More?: Tell us if there is anything else you need, we will be happy to try and help. We might be able to handle even more for you.
How To Earn Money?
You are probably aware there is lots of money to made with an affiliate website and especially a travel one. There are multiple ways to earn money and this is a fantastic way to get passive income and money on the side of a current job and if marketted well could potentially become a full time job.
Affiliates: You earn money from selling flight and hotel bookings, the reports and stats are available in your control panel. Each commision is different because it depends on a lot of variables. This is where most of your money will be made. You can imagine companies are paying a lot of money for other websites to sell tickets for them.
Flight Affiliates: You earn money from selling flight tickets, the commision for flights is the total commision the supplier recieves and this goes up to 70%, this all depends on the variables but can bring you a lot of money.
Hotel Affiliates: You earn money from selling hotel bookings, as there are thousands of hotels listed this is easy to achieve and is all updates automatically. The minimum commision for hotels is 6% of the total price the supplier receives and this also goes all the way up to 70% it all depends what hotel is booked, when its booked and for how long.
Car Rental Affiliates: You earn money from selling rental cars. You earn 60% of the advertisers earnings for each booking made. So what profit the advertiser earns for you selling this you receive 60% which can add up nicely, especially this is usually an addon to another booking.
Airport Transfers Affiliates: You earn money from selling airport transfers, there are over 6 million routes available in 135 countries. You earn 6.5% commision on each booking. This is a nice bonus as this is usually an extra booked once the customer has already booked flights.
Travel Sim Card Affiliate: You earn money from selling travel sim cards, you earn 5 euros for each sim card you sell, this is a set price and this can topup your earnings nicely.
Advertisements: You can also place advertisements on your website, this is a fantastic way to earn a little extra, also this is a great way of earning money for the fact you are earning money even if tickets don't sell. Aslong as you get people to your website, you are earning.
Once the £50 minimum commision is earned we will transfer it to your Paypal account.
Lots of money can be earned here, the website is good to go, you have to get the audience!
How It Works
So once you order this we will send you a link to signup for the service at Smughost, this is for managing your Smughost account. We will then ask you to fill in a short form just so we can register your domain name and learn more about your new website. We will then setup your website. You can then market your website and start earning money. You can add your own advertisement codes and affiliate are paid once the £50 minimum is reached.
How Much Does It Cost?
Nothing it isn't worth! The setup costs £29.99 and this includes the first year of your domain name. That is paid directly through eBay.
It's then just £4.99 a month and this is for the premium website hosting to keep your website online 24/7 with the ssl certificates so your customers feel safe on your website.
Thanks for your interest!
If you have any questions please don't hesitate to contact us. Please don't forget to checkout the live demo below the images!